The Drum- and Bugle Corps (DBC) is one of the two main components of the Koninklijke Harmonie Sainte Cécile Eijsden. This Hunting horn Corps consists of about 40 people and competes in the Premier division, section B1. The Premier division is the top section in the drum band sector of the Dutch Music Federations. Currently the corps is led by conductor/instructor Ad Triepels and drum-major Nico Dassen.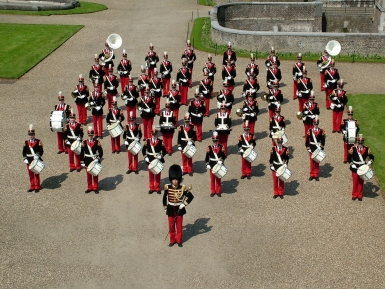 The current composition of cavalry trumpets, clarions, hunting horns, bass trumpets, sousaphones and percussion exists since the mid 80's.
Despite this typical composition for hunting horn corpses the band still uses its original name Drum- and Bugle Corps.
This unique composition however provides a special sound suitable for both outdoor performances and for concerts in a concert hall.
Together with the Wind Orchestra the Drum- and Bugle Corps is responsible for the famous, majestic march performances of Saint Cécile during which the Drum- and Bugle Corps so to say show the flag of Saint Cécile. Nature instruments play a prominent role in the Belgian/French military march repertoire and all the members feel connected to and responsible for the Belgian/French traditions of the (march) repertoire which is characteristic of Sainte Cécile. In co-operation with the Wind Orchestra the Drum- and Bugle Corps recorded two magnificent CD's: the double-CD "Bronkmuziek in Eijsden" and the CD "International Marches".
Besides joint appearances together with the Wind Orchestra the DBC also act independently. It is one of the leading Hunting horn corpses in the Netherlands. As from its foundation they obtained many good results and all competitions were won with first prizes and laudatory first prizes.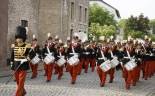 Thus the Drum- and Bugle Corps repeatedly were Limburg-, Dutch- and European Champions.
The corps is not only leading in competitions. Annually they provide some fine musical performances. The repertoire can be considered as very special striking the balance between traditional and innovative. In recent years several, innovative, compositions appeared which were commissioned by the DBC.
With this the Drum- and Bugle Corps gives a major boost in the expansion and renewal of the repertoire in this particular composition.
The DBC cherishes its traditions but in this way they also don't yield to innovation, which brings about interesting performances both in playing concerts as well as marching. Because of the special sound, there beautiful traditional uniforms, size, and especially the wonderful performances the Drum- and Bugle Corps built up an excellent reputation. Proof of this is the fact that the DBC receives numerous invitations for appealing performances throughout the country and abroad.
Should you wish to behold the Drum- and Bugle Corps of Koninklijke Harmonie Sainte Cécile Eijsden we advise you to consult the calendar of events (program) for further data.
For more information please contact Mr. E. Piters.