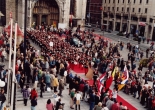 The Koninklijke Harmonie Sainte Cécile Eijsden was founded in 1880 by René "Count de Geloes" of Castle Eijsden. Since its inception, Sainte Cécile has always been under the presidency of the Lord of Castle Eijsden or one of his descendants.
Sainte Cécile is popularly known as "the Roej" (the Red Ones), derived only from the colour of their caps.
In 1952 the association expanded with a Drum- and Bugle Corps (Trommel- en Klaroenkorps) and was clothed in uniforms. In 1955 they received the title "Royal". Wind Orchestra and Drum band act not only separately but also perform jointly outdoors.

The overall appearance, size, discipline, uniforms and marching repertoire make The Koninklijke Harmonie Sainte Cécile a welcome guest throughout the country and abroad.
At the national event in the Amsterdam Arena on the occasion of the marriage of our Crown Prince Willem Alexander and Maxima in 2002, Sainte Cécile represented the Province of Limburg. This event was broadcast live on national T.V.
Since 2005 Sainte Cécile is yearly invited by its Board member of Honour, André Rieu, to perform in the supporting programme during his open-air-concerts at the Vrijthof in Maastricht.
Sainte Cécile also plays the signature tune and takes care of the musical setting on the L1 TV programme "Limbourgois" by Jo Cortenraedt.
Participating in the traditional "Bronk procession" in Eijsden, two weeks after Whitsuntide, is also one of the annual highlights.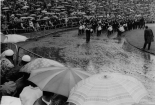 In the fifties and early sixties of the past century Sainte Cécile gained admiration by participating in the marching games during the
World Music Contest in Kerkrade. More recent performances of Sainte Cécile include for instance participation in tattoos in
Erkelenz (Germany), Woerden and Nijkerk (Holland), the opening of the Maastricht Congress Hall (MECC), the signing of the European "Treaty of Maastricht", and adding lustre to the 7-yearly "Heiligdomsvaart" in Maastricht.
There have been performances in Aken, Gent and Luik, and also further afield including concert tours in Krakow (Poland) and Barcelona (Spain) among many others..
For an overview of the history we can recommend the 125th-anniversary book "De Rode Draad, part 2" which can be found in the media library (shop). You will also find several CD's of both the Wind Orchestra separately and together with the Drum- and Bugle Corps(TKK).