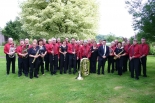 Music ensemble Da Capo 2000 was founded in that very year by and also meant for (old) musicians of Wind Orchestras and Fanfares from the South-Limburg region. In addition, Da Capo is open to all other musicians who want to make music in a natural and easy way.
The ensemble currently consists of approximately 35 musicians and on the programme are mostly marches, folk music, light overtures, soul, blues and pop music. Although top achievements are not expected Da Capo aims to realize a very pleasant listening experience. Yearly they give 4 to 5 concerts.
The ensemble is led by conductor Ger Chappin. Since 1987 Mr. Chappin has been employed as a cellist with the 'Orchestre Philharmonique de Liège'.
He is also co-founder and member of the 'salonorkest Wiener Soirée'. Permanent second conductor from establishment onwards has been Mr. Guy Kreemers who is a clarinettist with Koninklijke Harmonie Sainte Cécile Eijsden.