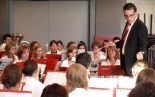 Both Youth orchestras, Les Jeunes de Sainte Cécile and Les Petits Jeunes serve a double purpose. First of all the young musicians learn all aspects involved in playing in the Wind Orchestra. In this way the two youth orchestras form an important link in the training program. By means of half-yearly auditions is decided whether a musician can go on to Les Petits Jeunes, to Les Jeunes, to the Wind Orchestra or to the Drum- and Bugle Corps. Apart from this musical aspect the youth orchestras of course have a social function. 'Making music together' is fun and incredibly important. There are also numerous activities each year, organized especially to enhance the social bond between them and with the association.

Youth orchestra "Les Jeunes"

Les Jeunes de Sainte Cécile have approximately 50 members and is led by conductor Martijn Pepels. Les Jeunes consist of members coming from Les Petits Jeunes and pupils who have already been admitted to play in the Wind Orchestra.
read more >

Youth orchestra "Les Petits Jeunes"

Les Petits Jeunes de Sainte Cécile consist of about 25 enthusiastic, young musicians. Led by conductor Paul van Aubel they learn to make music in groups.
When the pupil masters his instrument well enough he is allowed to move on to Les Jeunes.

read more >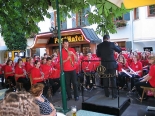 History

Also because of the successes of the Wind Orchestra led by the then conductor Hennie Ramaekers there was a considerable influx of pupils.
The growth by so many new-comers threatened to be detrimental to the quality of the Wind Orchestra. In the mid 80's it was therefore decided to establish
an orchestra for candidates. Main purpose of this orchestra was to create a smooth transition from musical education to the Wind Orchestra. As the orchestra in terms of age structure was a sort of youth orchestra they gave it the French name "Les Jeunes".
Over the years the quality of Les Jeunes increased whereby here too the phenomenon emerged that the quality of Les Jeunes suffered from the influx of new inexperienced musicians. Therefore a second youth orchestra was established in 2002: "Les Petits Jeunes".
The social aspect, apart from the musical training of the musicians, is of high priority with Sainte Cécile. Lots of activities are organized each year to strengthen the bond between the members themselves and with the association. It has become a tradition for almost twenty years to organize a music camp in the period between Christmas and New Year in which all the members of Les Jeunes and Les Petits Jeunes participate.
In 2008 Les Jeunes de Sainte Cécile also made a concert trip to Schladming (Austria). There they took part in the prestigious mideurope festival.
Amidst many international prime contestants Les Jeunes won a third prize with 92.5 points out of 100.