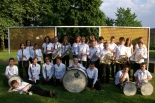 Youth orchestra "Les Petits Jeunes" consists of about 25 enthusiastic young musicians. Led by conductor Paul van Aubel they learn to make music in a group at an early stage.
The orchestra is composed of inexperienced musicians who master their instruments well enough to make music in a group. By means of half-yearly morning auditions is decided whether a pupil is capable to be removed to "Les Jeunes". Consequently the composition of Les Petits Jeunes changes almost every 6 months. Yet they succeed time and again in practising a music programme and finishing a period with a numerously attended concert.
Les Petits Jeunes rehearse once every two weeks on Friday nights and approximately provide 3 concerts.