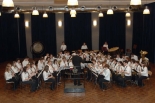 Youth orchestra "Les Jeunes de Sainte Cécile" consists of about 50 members and is led by conductor Martijn Pepels. The orchestra is composed of musicians coming from "Les Petits Jeunes" and musicians who have already been admitted to the Wind Orchestra. The latter playing in the Wind Orchestra as well as in Les Jeunes for a number of years. Those coming from Les Petits Jeunes are well on their way by now of being removed to the Wind Orchestra shortly.
Les Jeunes annually give about 4 to 5 concerts. When selecting the programme they look for a combination of serious, challenging works and lighter music, such as marches and pop music.
Led by Eric Feron Les Jeunes gained a first prize at the Federal competition for Youth orchestras in Weert in 1995. On that occasion Les Jeunes were the only Wind orchestra to be awarded the rating "gold" for the most expressive performance. In 1999 the orchestra, also led by Eric Feron, was judged with a rating "very good" in Maasbracht.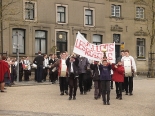 Led by conductor Jos Roeden (September 2000 - September 2002) several concerts were given at home and abroad as well as taking part in music competitions. Thus the orchestra was awarded the rating "very good" at the Festival for Youth Orchestra in Maasbracht on April 29th, 2001.
At the same time Les Jeunes also received the prize for the most promising Youth orchestra of the entire Festival. A year later, on June 30th 2002, the orchestra once again gained a "very good" at the 36th 'Tournament of the Peel' in Meijel.
From September 2002 until May 2007 Les Jeunes were conducted by Matty Cilissen. Concerts were given in Grevenbicht, Eijs, Visé, Maastricht, Banneux and Eijsden.
Since June 2007, the orchestra was led by Martijn Pepels. In July 2008 Les Jeunes made a concert trip to Schladming (Austria). At this mideurope festival Les Jeunes won the Dutch Championship. Amidst many international prime contestants Les Jeunes won a third prize with 92.5 points out of 100.